Dear all,
If you manage to find time for more English practice in your busy schedule, I'd like to invite you to another Yoyo supplemental boot camp. This time – likely the last one I can offer before I leave the country again – I'll make it more challenging and demanding in the true boot camp spirit. Come prepared, and ready to talk and be corrected!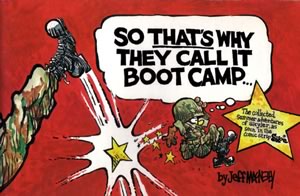 Three goals I've set out for the boot camp:
1. Learn how to be comfortable with "communicating while not knowing every word."
2. Learn how to expand your vocabulary "naturally."
3. Tackle those funky "phrasal verbs!"
This boot camp will be an all English exercise.
Time:
Sunday, Nov. 8, 1 pm – 4 pm
Place:
Tribu Cafe (森優咖啡), 台北市信義區崇德街74號. A room in the back. One drink minimum.
The Phrasal Verb Challenge
Not all verbs are in one word! The most useful ones are often made up of a verb and another element. How are your phrasal verbs? A good way to test your grasp of these maddening verbs is to see how many of the following 12(!) "turn" phrasal verbs you can use confidently (this part is not homework. No need to look anything up. Just a quick glance to see if you know them. 30 seconds maximum.
)
turn against
turn around
turn away
turn down
turn in
turn into
turn off
turn on
turn out
turn over
turn to
turn up
Are you dizzy yet?
And they are ALL common and useful. If you know at least 6 of them, congratulations! You are off to a good start. Note that every single one of them also goes beyond their "physical" or "literal" meaning. At this point dictionaries may just make you that much dizzier. I'll suggest another way to get a handle on them. Please do the following before you come to the boot camp.
Please prepare
(yes, it's homework!
But just
3
phrasal verbs, not all of them):
Search in
Google News
the following phrasal verbs (and put them in quotation marks). The phrasal verbs will be "
boldfaced
" in the search results. Go through at least 3 result items and see how the phrasal verbs are used. A lot of these verbs come from sports, so look past sports news to get other usages.
Try not to check with any dictionary for this exercise
. Finally, pick 3 phrasal verbs you are least familiar with and make your own two-line dialogues, each using one phrasal verb. Share the dialogues at the boot camp.
Example:
Phrasal verb:
account for
Google News search:
"account for"
(don't forget the quotation marks)
3 search result Examples:
(here I picked one for each of the 3 usages)
1. (ITV News) Women now
account for
25% of directors on the boards of top UK companies, but more needs to be done, according to a new report.
2. (CFA Institute Enterprising Investor) In your planning and preparation, you must
account for
the human factor.
3. (Toronto Sun) Teacher unions must
account for
millions of taxpayer dollars they received to pay for hotels, pizzas and other bargaining costs, the government now insists.
Write a dialogue:
A: She didn't bring up the budget at the meeting, did she?
B: No. But she must account for the overspending at some point.
The phrasal verb list:
This is a "common phrasal verbs you may not know" list I've put together for our regular Yoyoers. Pick 3 least familiar to you and do the above exercise.
ask around




account for

(3 usages)


answer for

(search "to answer for")


bail out on




bargain for

(search "bargained for")


be taken aback

(search "taken aback")


bear out

(search "borne out by")
bring about
bring up
call for
call off
carry out
chip in
come across (2 usages)


come down to

(search "will come down to" or "all comes down to")
figure out
look to (2 usages)


get across

(search '"get across", message')
get away with
go through with
let on
let up
make for
opt in vs.

opt out




own up

(search "own up to")
pan out
pay off (2 usages)


peter out

(search "petered out")


pitch in

(search "pitch in to")


play up

vs.

play down




pull through




put (something) down to

(search "put it down to")


put off

(2 usages)
shake up
slip up (v.) /

slip-up

(n.)
step up
top up ( v.) /

top-up

(n.)


weigh in (on)


wind down
wind up
work out (3 usage)


wrap up

(2 usages)
We'll also play games and do various activities at the boot camp. It'll be tough yet still fun!
Hope to see you all at the boot camp.