Dear friends,
It'll be my pleasure to host again—and to be back to the meetings at all. It's been a long stretch, and how I miss my Yoyo gang! ("Gang" here is slang for "a group of friends.")
As in the past, I'll try and mix things up a bit, explore various discussion formats, and even throw in a game or two for good measure. All for the most effective learning while having the most fun.
So join the blast!
____________________________________________________________________________________________________
Session I
THE POWER OF HABIT
According to a study published in the European Journal of Social Psychology, it takes an average 66 days for people to form a new habit.
In Pulitzer-winning New York Times journalist Charles Duhigg's book,
The Power of Habit
, he points out, "The Golden Rule of Habit Change: You can't extinguish a bad habit, you can only change it."
As of now, I'm still trying to kick (sorry, "change!") my 30-year-old habit of "sleeping late and little." And now I know why it's been so tough: I go 3 nights on an early bedtime and then lapse the next 3!
It's fascinating—and extremely instructive— what the science has to tell us about our habits. It turns out that habits shape our life more powerfully than we ever realize. Once formed, we cruise through life on auto-pilot—with decisions already made in the form of our everyday routines. We live by our habits.
So maybe by learning more about how habits operate, we get to shape them and then make them shape us in the best way possible.
I love the book and highly recommend it. Here's an excerpt from the opening of the book.
The Habit Cure
She was the scientists' favorite participant.

Lisa Allen, according to her file, was thirty-four years old, had started smoking and drinking when she was sixteen, and had struggled with obesity for most of her life. At one point, in her mid-twenties, collection agencies were hounding her to recover $10,000 in debts. An old résumé listed her longest job as lasting less than a year.

The woman in front of the researchers today, however, was lean and vibrant, with the toned legs of a runner. She looked a decade younger than the photos in her chart and like she could out-exercise anyone in the room. According to the most recent report in her file, Lisa had no outstanding debts, didn't drink, and was in her thirty-ninth month at a graphic design firm.

"How long since your last cigarette?" one of the physicians asked, starting down the list of questions Lisa answered every time she came to this laboratory outside Bethesda, Maryland.

"Almost four years," she said, "and I've lost sixty pounds and run a marathon since then." She'd also started a master's degree and bought a home. It had been an eventful stretch.

The scientists in the room included neurologists, psychologists, geneticists, and a sociologist. For the past three years, with funding from the National Institutes of Health, they had poked and prodded Lisa and more than two dozen other former smokers, chronic overeaters, problem drinkers, obsessive shoppers, and people with other destructive habits. All of the participants had one thing in common: They had remade their lives in relatively short periods of time. The researchers wanted to understand how. So they measured subjects' vital signs, installed video cameras inside their homes to watch their daily routines, sequenced portions of their DNA, and, with technologies that allowed them to peer inside people's skulls in real time, watched as blood and electrical impulses flowed through their brains while they were exposed to temptations such as cigarette smoke and lavish meals. The researchers' goal was to figure out how habits work on a neurological level—and what it took to make them change.

(Excerpt From: Charles Duhigg. "The Power of Habit: Why We Do What We Do in Life and Business")
The Habit Loop
The Power of Habit: Charles Duhigg at TEDxTeachersCollege
More quotes:
"Typically, people who exercise, start eating better and becoming more productive at work. They smoke less and show more patience with colleagues and family. They use their credit cards less frequently and say they feel less stressed. Exercise is a keystone habit that triggers widespread change."
"But every habit, no matter its complexity, is malleable. The most addicted alcoholics can become sober. The most dysfunctional companies can transform themselves. A high school dropout can become a successful manager."
____________________________________________________________________________________________________
Session II
THE IDIOM BLAST!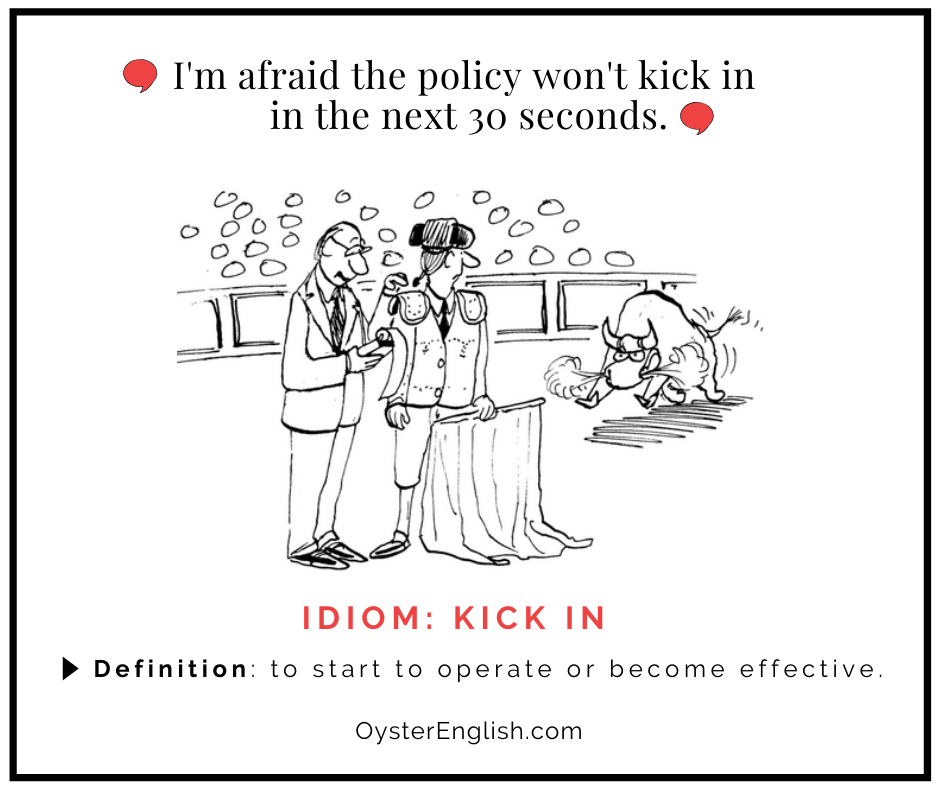 What's an idiom anyway, and why is it often the last thing to master when learning a new language?
From "Simple English Wikipedia": "An idiom is a common word or phrase which means something different from its literal meaning but can be understood because of their popular use. ... In order to understand an idiom, one sometimes needs to know the culture the idiom comes from."
It can be a word, a phrasal verb, an expression, and it's often found in natural speech. In contrast, big words don't really work well in everyday life—when we talk, try to be friendly, or simply want to express ourselves without sounding like a robot—or a dead poet.
So we'll "play" with some of the most common and useful idioms that we may not have gotten to use in our speech (here "speech" means everything we say). Some that go beyond the basic. Let's master them and sound native, come across real, and show that we're super comfortable with the language.
A tip:
Idioms are best learned in dialogues. So conversations in movies, TV shows, novels or interviews are some of the best sources. An example:
A: "Congratulations on finishing the marathon!"
B: "Thanks! I can't believe I pulled it off."
A: "Did you find it difficult?"
B: "My legs started hurting during the last five miles – but all the people cheering us on definitely helped me pull through the pain and reach the finish line."

(Espresso English)
So how many of these idioms can you identify and, more important, are you already using?
A: "His story simply didn't add up. He was trying to pull a fast one."
B: "But I still can't believe you just called him out like that."
A: "I couldn't help it. He's right up there with the worst of them."
B: "I guess I'm just not sure butting heads with him would get you anywhere."
A: "Now that I've laid everything on the table, we'll see how things go down the line."
Idioms just may be the most interesting part of any language. So "go to town on" it!
********************************************************************************************************
Agenda:
3:50 ~ 4:00pm Greetings & free talk / Ordering food or drinks / Getting newcomer's information
4:00 ~ 4:20pm Opening remarks / Newcomer's self-introduction / Grouping
(Session I)
4:20 ~ 5:20pm Activities (60 mins)
5:20 ~ 5:30pm Regrouping / Instruction / Break
(Session II)
5:30~ 6:20pm Activities (50 mins)
6:20~ 6:30pm Concluding remarks / Announcements (10 mins)
********************************************************************************************************
聚會日期:列於該貼文主題內
聚會時間:請準時 4:00 pm 到 ~ 約 6:30 pm 左右結束
星期六聚會地點:丹堤濟南店
地址、電話:台北市濟南路三段25號 地圖 (02) 2740-2350
捷運站:板南線 忠孝新生站 3 號出口
走法:出忠孝新生站 3 號出口後,沿著巷子(忠孝東路三段10巷)走約 2 分鐘,到了濟南路口,左轉走約 2 分鐘即可看到。
最低消費: 80 元
注意事項:
1. 文章是否需要列印請自行斟酌,但與會者請務必自行列印 Questions for discussion。
2. 與會者請先閱讀過文章,並仔細想過所有的問題,謝謝合作!
給新朋友的話:
1. 請事先準備 2~3 分鐘的英語自我介紹;會議結束前可能會請你發表 1~2 分鐘的感想。
2. 請事先閱讀文章以及主持人所提的討論問題,並事先寫下自己所欲發表意見的英文。
3. 全程以英語進行,參加者應具備中等英語會話能力,對任一討論問題,能夠以 5 到 10 句英文表達個人見解。
4. 在正式加入之前,可以先來觀摩三次,觀摩者亦須參與討論。正式加入需繳交終身會費 NT$1,000。