Session One
Japan's famous Nara deer face capture
http://www.bbc.com/news/world-asia-40786790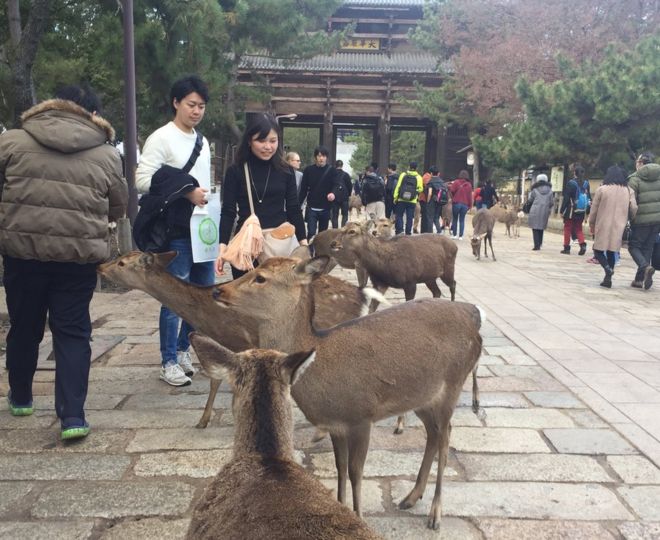 The free-roaming deer of Nara, Japan have become an Instagram favourite for their endearing boldness and their apparent habit of bowing to get snacks.
But starting this week, they're facing possible capture if they wander too far out of town.
Local people, particularly farmers, have been complaining that growing numbers of deer are encroaching on fields and eating crops.
So the city has authorised the use of traps to remove errant animals.
Nara, a small city and former Japanese capital south of Kyoto, is heaving with sika deer and has been for centuries.
More than 1,200 have made the city their home, mostly congregating in central Nara Park, where tourists wanting to generate a mini stampede can buy packets of crackers to feed them.
But they can also be seen strolling through the town centre.
Once considered sacred, the deer are now classified as a national treasure, so are protected by law.
Last year, the authorities said the deer were causing about 6bn yen ($54m; £41m) in damage to regional agriculture annually, so they would start taking action.
There had been talk of a cull, but this week, they began the less extreme solution of setting out humane deer traps in some of the worst affected areas.
"Nara has a long history of people living side by side with deer in harmony," one local government official told the Asahi Shimbun newspaper.
"We want to continue efforts to coexist in peace while preventing damage to crops."
Authorities are hoping to catch and release up to 120 animals before March next year.
Further reading:
http://www.travelcaffeine.com/deer-nara-japan/
Questions:
1. Have you ever been to Nara? What do you know about the deer there? What would you do if you were there with the deer? Are the deer dangerous in anyway?
2. The Nara deer is a tourist attraction. Please discuss and make a plan to copy its successful experience and let our wild Formosan sika deer be a tourist attraction here in Taiwan.
3. What other wild animals tourists attractions in the world do you know? Is it ethical to use them as tourist attractions?
Session Two
Urban wildlife: when animals go wild in the city
https://www.theguardian.com/environment/2015/mar/08/urban-wildlife-animals-in-city
Tall buildings, abundant food sources and a lack of predators make modern cities a natural habitat for many birds and animals
Perching on the side of an old power station chimney with St Paul's Cathedral to the north and the Shard, Europe's tallest building, to the east is not where you might expect to glimpse the world's fastest bird. Yet Tate Modern, and London landmarks including Battersea Power Station and the Houses of Parliament, have been home for several years to peregrine falcons. A surprising flash of the wild in the heart of the city, the powerful bird of prey is also a specialised hunter of feral pigeons, considered such an urban pest that in 2003 a ban was imposed on feeding them in Trafalgar Square.
With cities' abundant food sources and tall buildings providing a predator-free equivalent of the species' traditional cliff-side home, the raptor's success has extended far beyond the capital. Having colonised urban areas from Aberdeen to Cardiff, ecologists now believe it is only a matter of time before peregrine falcons are breeding in every major UK town and city.
"All those born and bred in cities, that's their habitat that they've grown up in. When they're drifting around the country, they find little towns and cities elsewhere … and that's what they're used to," says David Goode, a veteran ecologist and author of a new book, Nature in Town and Cities. "That's why I say it won't be long until they're in every place."
The peregrine is just one of many species that have invaded British cities in the last few decades, encouraged in no small part by an urban ecology movement that flourished in the 1980s. "There are those that have done well – pigeons, foxes, gulls – because of our food," says Mathew Frith, an ecologist and policy director at the London Wildlife Trust. "There are others that have done well without our intervention, such as the black redstart, known as the 'bombsite bird' because of its liking for the cover that bomb sites provided." Then there are the species that benefited from conservation efforts, such as the red kite.
(Please check the link above to read the full story)
Questions
1. What wild animals in cities can you think of? Which ones are cute and which are dangerous and ugly? What is the most successful wild animal in cities? Please pick an urban wild animal and say something about it.
2. What do we do with urban wildlife? Should we protect them, cull them, or simply ignore them?
3. Do we have urban wildlife problems in Taiwan? What's your personal experience about it?
********************************************************************************************************************************************
Agenda:
6:45 ~ 7:00pm Greetings & Free Talk / Ordering Beverage or Meal / Getting Newcomer's Information
7:00 ~ 7:10pm Opening Remarks / Newcomer's Self-introduction / Grouping
(Session I)
7:10 ~ 7:50pm Discussion Session (40 mins)
7:50 ~ 8:10pm Summarization (20 mins)
8:10 ~ 8:25pm Regrouping / Instruction Giving / Taking a 10 Minutes Break (Intermission)
(Session II)
8:25 ~ 9:05pm Discussion Session (40 mins)
9:05 ~ 9:25pm Summarization (20 mins)
9:25 ~ 9:30pm Concluding Remarks / Announcements ********************************************************************************************************************************************
聚會日期:列於該貼文主題內
聚會時間:當天請準時於 6:45 pm 到達 ~ 約 9:30 pm 左右結束
星期二聚會地點:丹堤濟南店
地址、電話:台北市濟南路三段25號 地圖 (02) 2740-2350
捷運站:板南線 忠孝新生站 3 號出口
走法:出忠孝新生站 3 號出口後,沿著巷子(忠孝東路三段10巷)走約 2 分鐘,到了濟南路口,左轉走約 2 分鐘即可看到。
最低消費: 80 元
注意事項:
1. 文章是否需要列印請自行斟酌,但與會者請務必自行列印 Questions for discussion。
2. 與會者請先閱讀過文章,並仔細想過所有的問題,謝謝合作!
給新朋友的話:
1. 請事先準備 2~3 分鐘的英語自我介紹;會議結束前可能會請你發表 1~2 分鐘的感想。
2. 請事先閱讀文章以及主持人所提的討論問題,並事先寫下自己所欲發表意見的英文。
3. 全程以英語進行,參加者應具備中等英語會話能力,對任一討論問題,能夠以 5 到 10 句英文表達個人見解。
4. 在正式加入之前,可以先來觀摩三次,觀摩者亦須參與討論。正式加入需繳交終身會費 NT$1,000。