.
"Each generation imagines itself to be more intelligent than the one that went before it, and wiser than the one that comes after it."

– George Orwell
Dear YOYOs,
A few weeks ago, I came across this video clip and was thinking this might be a good topic for a YOYO meeting:
Unfortunately, after talking to a member, I was told that a very similar topic had been discussed a few months ago:
viewtopic.php?f=2&t=4481
Alas! It was like you met a cute girl who turned you on, only to find she was someone else's wife.
Still, I managed to arrange the questions in a different way. I hope you will like them.
---
The following Information may help you join the discussion:
◇ The generations are delineated something like this:
★
The Greatest Generation
(aka the G.I. Generation) born between 1901 and 1927
★
The Silent Generation
(aka the Lucky Few) born between 1928 and 1945
★
Baby Boomer
(aka the Rock and Roll Generation or Generation Jones) born between 1946 and 1964
★
Generation X
(aka Gen X) born between 1965 and 1980
★
Millennial
(aka Gen Y) born between 1981 and 1997
★
Generation Z
(aka The Founders, iGen, Homeland Generation, Posts, Plurals, or ReGen) born between 1998 and 2010
★
Generation Alpha
(aka Gen Tech, Digital Natives, or Net Gen) born between 2011 and 2025
◇ A brief description of the generations: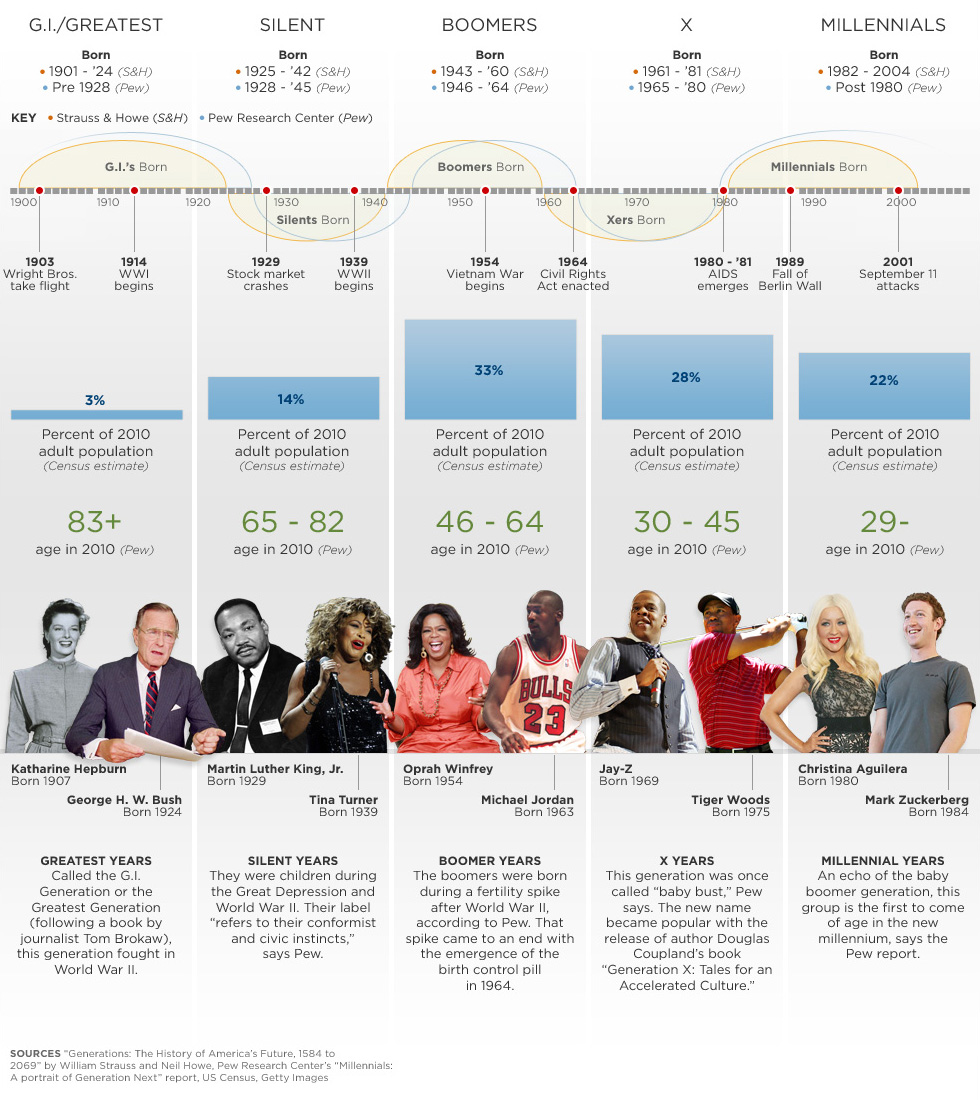 (If you cannot see the whole picture, click the source here:
CNN
)
◇ A detailed description of the generations:
http://socialmarketing.org/archives/gen ... he-others/
Questions for Discussion:
Session I
Q1: Before we start the discussion, let's take a BuzzFeed quiz to see which living generation you actually belong in:
https://www.buzzfeed.com/eugeneyang/generations
Do you agree with the quiz result? Regardless of your real age, which generation best describes you?
Q2: The labels for the generations largely reflect American history. Do you think they are also applicable to us? Can you make an Asian version of the generations?
Q3: Do you believe people who live in the same generation share similar experiences, circumstances, and culture? For those features you are labeled, what are true and what are just negative stereotype?
Session II
Q4: Regardless of their original definition, in your opinions, which generation is the greatest and which is the worst? Which is a sandwich generation and which is neglected? Which deserves the name of a "lost generation"?
Q5. Do you think baby boomers, Gen Xers, and millennials have many generation differences as 1) consumers, 2) workers, 3) learners, and 4) social creatures? Or do you think they are more alike than different?
Q6. Gen Alphas are those who born since 2010, and their future are full of imagination. What does the future hold for Generation Alpha? How will you get along with them?
Q7. The video concludes with "In the end, your generation does not ultimately define you, but how you interpret your unique place within it". What is "your unique place" in your generation? In your opinions, what are the opportunities and challenges?
********************************************************************************************************************************************
Agenda:
6:45 ~ 7:00pm Greetings & Free Talk / Ordering Beverage or Meal / Getting Newcomer's Information
7:00 ~ 7:20pm Opening Remarks / Newcomer's Self-introduction / Grouping
(Session I)
7:20 ~ 8:05pm Discussion Session (45 mins)
8:05 ~ 8:20pm Summarization (15 mins)
8:20 ~ 8:25pm Regrouping / Instruction Giving / Taking a 5 Minutes Break (Intermission)
(Session II)
8:25 ~ 9:10pm Discussion Session (45 mins)
9:10 ~ 9:25pm Summarization (15 mins)
9:25 ~ 9:30pm Concluding Remarks / Announcements
********************************************************************************************************************************************
聚會日期:列於該貼文主題內
聚會時間:當天請準時於 6:45 pm 到達 ~ 約 9:30 pm 左右結束
星期二聚會地點:丹堤濟南店
地址、電話:台北市濟南路三段25號 (02) 2740-2350
捷運站:板南線 忠孝新生站 3 號出口
走法:出忠孝新生站 3 號出口後,沿著巷子(忠孝東路三段10巷)走約 2 分鐘,到了濟南路口,左轉走約 2 分鐘即可看到。
最低消費: 80 元
注意事項:
1. 文章是否需要列印請自行斟酌,但與會者請務必自行列印 Questions for discussion。
2. 與會者請先閱讀過文章,並仔細想過所有的問題,謝謝合作!
給新朋友的話:
1. 請事先準備 2~3 分鐘的英語自我介紹;會議結束前可能會請你發表 1~2 分鐘的感想。
2. 請事先閱讀文章以及主持人所提的討論問題,並事先寫下自己所欲發表意見的英文。
3. 全程以英語進行,參加者應具備中等英語會話能力,對任一討論問題,能夠以 5 到 10 句英文表達個人見解。
4. 在正式加入之前,可以先來觀摩三次,觀摩者亦須參與討論。正式加入需繳交終身會費 NT$1,000。