Dear all,
Please watch the video clip before coming to the meeting.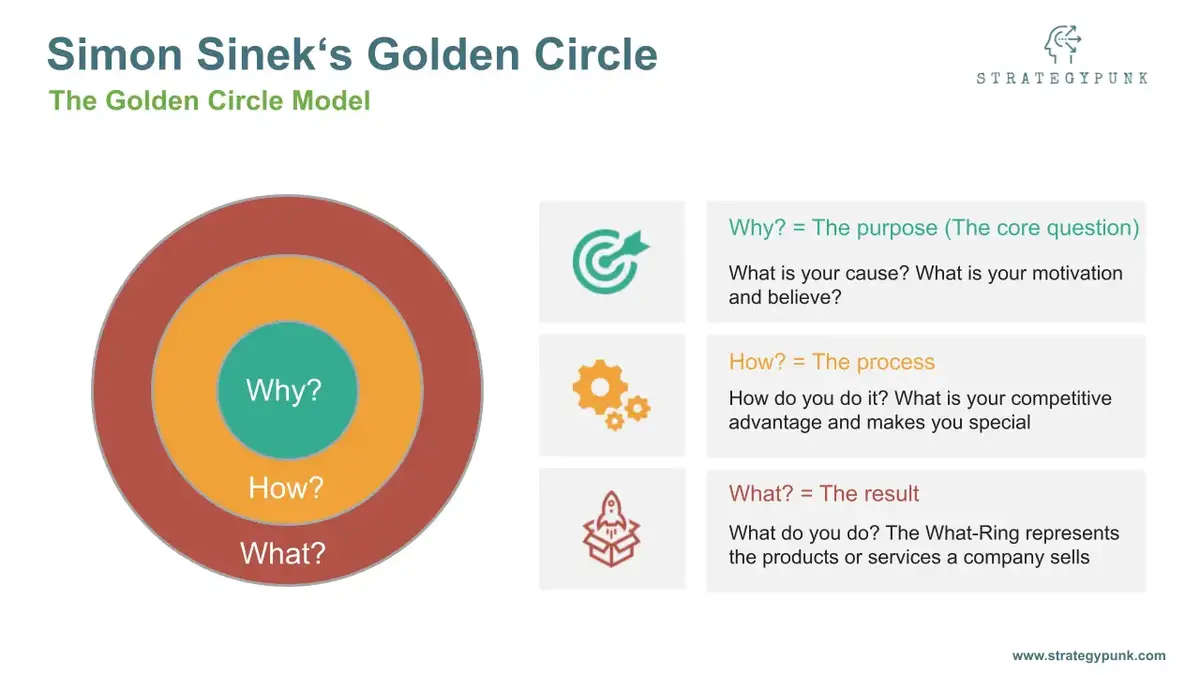 Other references:
-
Find Your WHY | Simon Sinek (4:53)
-
如何找回生活意義?| 薑餅資 (7:18)
Questions for Discussion:
Session I
1. Simon Sinek introduced the concept of the golden circle and emphasized the importance of starting with why.
Please explain what the golden circle is and the reason why starting with why is better than simply focusing on what and how.
1.1 Explain its benefits on an organization level as a leader
1.2 Explain its benefits on a personal level
2.
2.1 Have you found your WHY, or in other words, your purpose in life?
2.2 Does your WHY statement fit in with the expression "To ______ so that ______" where the first blank is how you want to help people and the second blank is the impact that you want that to have?
2.3 Does it make sense to you that the first blank must have something to do with altruism? Do you know or could you imagine anybody's WHY statement that is an exception to this rule of expression? (e.g. the statement is all about themselves)
3. Mark Twain said, "The two most important days in your life are the day you are born and the day you find out why."
3.1 What are the benefits of finding your why?
3.2 Do you intend to find your purpose in life? Why does it matter or not matter to you?
4. Simon Sinek says that your why was fully formed in your late teens or early twenties because it's the sum total of the experiences you have when you were kid, how you were raised, and what you got from your parents, family, and friends that made you who you are. Your why doesn't change with time. It's not a matter of creating a purpose, but figuring out what your why is.
Do you agree with his opinion?
Session II
5. Typically, we spend significant amount of time on working. Assuming that a person's why has little, if there is any, to do with their job, what's your advice to them? How should they treat their job? (e.g. quiet quitting, use job as an indirect measure to achieve one's life purpose)
6. Simon Sinek recommended two exercises that might help find your why. The first one is asking a few close friends what it is that makes you a unique friend, what's the value you have in their life. Their answers will have something in common because your why is the thing you give to the world and amongst your closest friends it is the space you fill in their lives.
6.1 Have you tried to figure out what makes you who you are by asking close friends?
6.2 Did the exercise work to you, or do you think it would work if you haven't done so?
7. The second exercise consists of three steps.
Step 1: Create a list of people or experiences that has helped you become who you are today
Step 2: Share the stories with a partner about the experiences and the people who impacted you
Step 3: The partner's role is to help you discover an impact that is so profound and life-changing that you think it's your mission to have a similar impact on others
7.1 Have you experienced such kind of impact in your life? What is it?
7.2 How do you like this exercise? Do you think it's going to help you find your life purpose?
8. Other than the two exercises, do you have any tips on how to find one's life purpose?
***********************************************************************
Agenda:
3:50 ~ 4:00pm Greetings & Free Talk / Ordering Beverage or Meal / Getting Newcomer's Information
4:00 ~ 4:10pm Opening Remarks / Newcomer's Self-introduction / Grouping
(Session I)
4:10 ~ 4:50pm Small Group Discussion (40 mins)
4:50 ~ 5:10pm Summarization (20 mins)
5:10 ~ 5:20pm Regrouping & Break
(Session II)
5:20 ~ 6:00pm Small Group Discussion (40 mins)
6:00 ~ 6:20pm Summarization (20 mins)
6:20 ~ 6:30pm Concluding Remarks
On-site meeting:
Meeting Venue: 丹堤咖啡 Dante Coffee (Minimum Order $80)
Address: 台北市濟南路三段25號[MAP]-捷運忠孝新生站3號出口步行3分鐘
Online meeting:
Zoom meeting ID: 875 5256 1813
Password: loveyoyo
Link:
https://tinyurl.com/yoyobest
Important Notes:
1. We advise participants to print out the discussion questions and bring them to the meeting for reference. As for the supporting articles, feel free to print them out, as well, according to your preference.
2. We suggest that participants read the articles and think about the questions in advance.
3. Newcomers should prepare a two-to-three minute self-introduction in English to deliver when called upon by the host before the start of the discussion. The host may also ask you to give brief feedback about the meeting at the conclusion of the meeting.
4. We conduct the entire meeting in English. All participants should have at least moderate English-conversation skills and be able to articulate your ideas for each discussion question.
5. We welcome newcomers and other guests to attend the meetings and join the discussion freely for twice (including on-site and online meetings). After that, we hope you will consider becoming a YoYo English Club member. We charge a NT$1500 lifetime membership fee.